History and Mission
Mission
History Theatre entertains, educates, and engages through creating, developing, and producing new and existing works that explore Minnesota's past and the diverse American experience. Its work provides a unique lens which links our past to the present, explores our common heritage, and illuminates our understanding of what it means to be American.
The Company
History Theatre is a three-time IVEY Award-winning theater, and is recognized nationally as a leader in producing historical work. For more than 35 years History Theatre has produced brave, entertaining explorations of all the histories that make up our diverse community. Each year History Theatre produces a season filled with excellent plays and musicals while developing new scripts through workshops and staged readings.
The Work
Since its founding in 1978 by Lynn Lohr and Lance Belville, the company has staged more than 100 world premieres, working with nationally recognized playwrights including Jeffrey Hatcher, Eric Simonson, Kevin Kling, Craig Wright, Frank McCourt, Doris Baizley, Melanie Marnich, Kim Hines, John Olive, and Kira Obolensky. From a harrowing slave journey to St. Paul in Adrift on the Mississippi to an urban musical celebration of the Twin Cities in Snapshots: Life in the City, from the rock 'n' roll biography Buddy – The Buddy Holly Story to the dark, complex A Piece of the Rope about Minnesota's first public execution, History Theatre has moved audiences to rediscover, relive, and respect every piece of their history.
History Theatre' New Work Development
RAW STAGES New Works Festival
History Theatre's Past Productions
Touring
History Theatre has been able to share selected productions with audiences in Greater Minnesota and students in Twin Cities area schools. This activity is made possible by the voters of Minnesota through a grant from the Minnesota State Arts Board, thanks to a legislative appropriation from the arts and cultural heritage fund.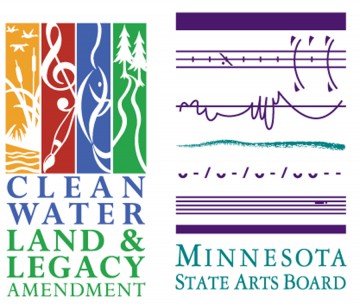 The Stage
History Theatre is housed in a 587–seat, thrust stage theatre designed by Ralph Rapson. No seat in the theatre is more than 40 feet away from the stage.
For information about renting the History Theatre for your event please contact Karen Mueller, Managing Director:
Phone: 651.292.4321
Email: kmueller@historytheatre.com